Moving can be overwhelming and complicated, but it can also be an exciting adventure! If you are planning on moving to Lethbridge, Alberta, Canada then this article is for you! Here we will discuss the culture, climate, job market, cost of living, and more. Let's get started!
If you are planning a move to Lethbridge and need help buying the perfect home, contact Sutton Group today!

The Culture in Lethbridge
Lethbridge is a diverse and vibrant city that offers something for everyone. There are countless festivals and events throughout the year including the Whoop-Up Days Fair – one of Alberta's largest summer festivals. The city is also home to a wide variety of restaurants, shopping centers, museums and other attractions. Whether you're looking for a night out or want to explore the great outdoors there are plenty of things to do in Lethbridge.
Things to do in Lethbridge
Helen Schuler Nature Centre – This nature centre offers educational programs about local wildlife as well as hiking trails where visitors can explore the area's natural beauty.
Galt Museum & Archives – This museum houses artifacts from Alberta's past as well as exhibits about local history and culture.
Nikka Yuko Japanese Garden – This beautiful garden features Japanese plants and sculptures set against a mountain backdrop. It's a great place for a picnic or just to relax and enjoy nature.
Fort Whoop-Up National Historic Site – This former fur trading post offers visitors a glimpse into life in 19th-century Canada with interpretive displays, costumed interpreters and period buildings.
Climate in Lethbridge
Lethbridge has a semi-arid climate with warm summers and cold winters. During winter months temperatures usually drop below freezing with significant snowfall at times. The spring season brings mild weather with temperatures ranging from 10°C (50°F) to 20°C (68°F). Summers are typically hot with temperatures reaching 30°C (86°F) at times while fall months bring cooler weather again with highs around 15°C (59°F).
Job Market in Lethbridge
The job market in Lethbridge is thriving; many people relocate here for work opportunities as the city offers several industries including agriculture, manufacturing and oil & gas production. Job seekers are sure to find employment that suits their needs as the economy continues to expand at an impressive rate. Additionally, the University of Lethbridge provides excellent educational opportunities as well as research projects that contribute significantly to the area's economic growth.
Major Employers in Lethbridge
Lethbridge employs over 80,000 people, some of who commute from other close by towns. Most of the major employers in the city are government based. Here are the top employers in the area:
Lethbridge School District
Lethbridge Research Centre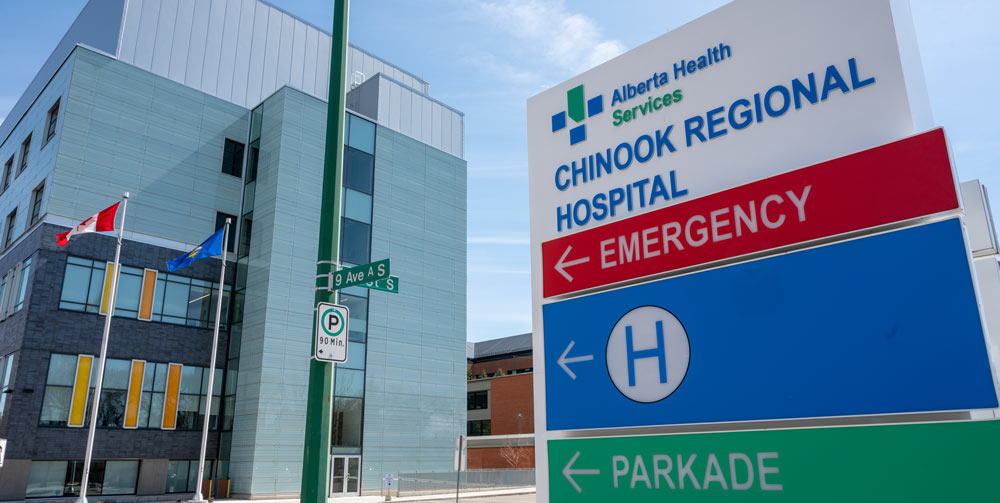 Cost of Living in Lethbridge
The cost of living in Lethridge is much lower than other Canadian cities like Calgary, Toronto or Vancouver making it an attractive option for those on a budget. Housing costs tend to be lower than average while groceries and utilities remain relatively inexpensive as well. Overall it's a great place to live if you're looking for an affordable yet high-quality lifestyle.
Neighbourhoods in Lethbridge
There are a wide variety of neighbourhoods in Lethbridge that you can choose from. You can find the perfect neighbourhood to fit your needs here. This city is separated into 3 distinct areas, each of which offers something a little different. South Lethbridge is the busiest and oldest of the areas, with a wide variety of amenities. North Lethbridge offers a quieter, suburban feel with plenty of affordable single-family homes. Downtown Lethbridge offers that urban vibe. West Lethbridge is the newest but still fastest growing area.
How many people live in Lethbridge?
With a population of 101,482 in its 2019 municipal census, Lethbridge became the fourth Alberta city to surpass 100,000 people, and is now the 3rd largest city in the province.
Conclusion:
Moving to Lethridge can be a great choice for those looking for employment opportunities and an affordable cost of living. With its diverse culture and vibrant atmosphere, it offers something unique compared to other cities in Canada. Whether you are looking for work or simply want to enjoy all that this city has to offer there are plenty of reasons why you should consider calling Lethridge your new home! We hope this article post gave you some insight into what it would be like living in this beautiful city!
If you have any other questions about the wonderful city of Lethbridge or need help buying the perfect home, contact Sutton Group today!