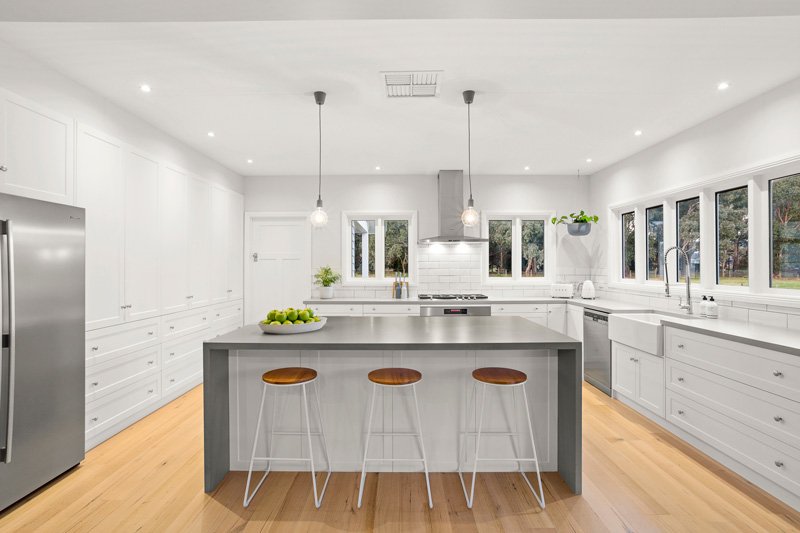 If you're like most homeowners, you're always on the lookout for ways to add value to your home. Whether you're preparing to sell in the near future or simply want to know what your options are, read on for 10 ways to add value to your home in 2022! From simple and budget-friendly ideas to more expensive renovations, there's something for everyone! Keep in mind that while some of these projects will add greater value than others, all of them will make your home more comfortable and stylish. So get inspired and start adding value to your home today!
1. Paint your walls a fresh, new color
It's a great idea to paint your walls a modern, bright color that just about anyone will like. Try to avoid colors that you personally like, as others may not enjoy the same style as you do.


2. Finish the basement
If you have an unfinished basement, you're missing out on livable space for future buyers to enjoy— whether as a home office or space for entertaining. An unfinished basement can also be made into additional bedrooms or bathrooms, which will greatly affect the appeal of your home to future buyers.
3. Open up the floor plan
Open floor plans are still in. People need dedicated space to work, but they still want to enjoy family time and entertain. Knowing that, knocking out the right wall can create the spacious layout on many buyers' wish lists. While an open layout allows for inviting natural light, we suggest speaking with a contractor before taking out any walls.
4. Enhance your home's curb appeal
Curb appeal entices buyers before they even enter your home. An attractive front yard implies that you maintain your home on the inside as well. If you don't have the budget to hire a professional landscaper, the least you can do is make sure your lawn in mowed, your driveway is cleaned, and your windows are washed. No one wants to see a yard filled with weeds when driving up to your property.
5. Swap out your fixtures in the kitchen and bathrooms
New drawer knobs and faucets are an inexpensive upgrade that can have a big impact on buyers because everything feels new. They can spruce up your kitchens and bathrooms for a very reasonable price.
6. Refinish your hardwood floors
Refinishing your hardwood floors is a fairly cost-effective way to spruce up your house. Refinishing is much cheaper than replacing the entire floor altogether, and it will still leave you with a flawless looking floor.
7. Touch up or re-paint your exterior
You can simply touch up any flaking or chipped paint, or paint the front door and trim. You don't have to repaint your whole house to make it look new again, especially if you're on a budget.
8. Add a deck or patio
Making your outdoor living space more enjoyable is a great way to increase your property value. A deck or patio is a staple of your home's backyard living space. It's a place to eat, have a beverage, entertain, or work outdoors for a an afternoon
9. Add central air
One 2018 report shows that homes with air-conditioning sold for 2.5% more nationwide than homes without it. Not only that, but adding central air will make your home more enjoyable for you to live in as well.
Conclusion: While some of these upgrades may be too expensive right now for the average homeowner, others are easily achievable and can add tremendous value to your home. If you're thinking about selling in the next few years and want to increase the value of your current property, contact us today! Our team of experts will help you find the right upgrades for your home that will have potential buyers knocking on your door when you look to sell.
With decades of experience in the real estate industry, our team is dedicated to helping you sell your home for top dollar. Give us a call today – we'd love to hear from you!